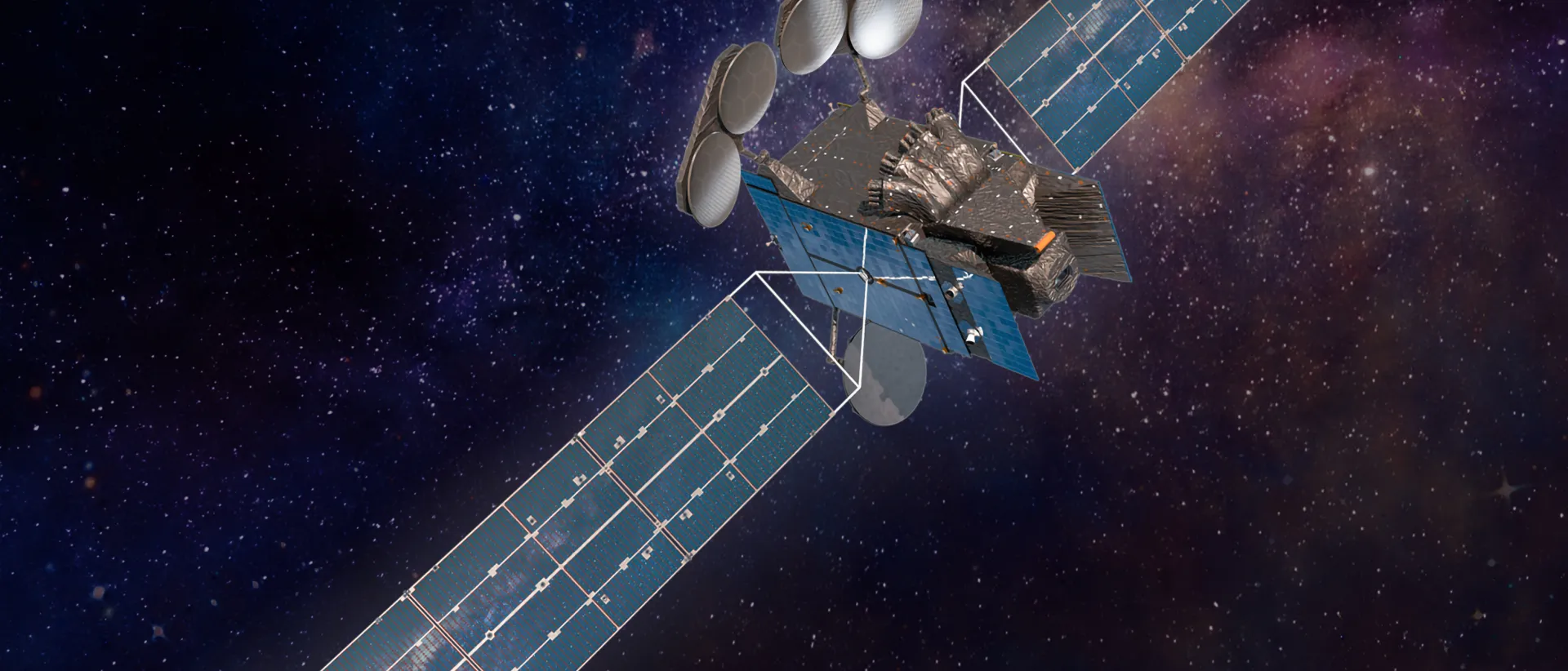 07.11.2022
First geostationary navigation receiver from Beyond Gravity
Beyond Gravity (formerly RUAG Space) delivered a geostationary navigation receiver to Maxar. Scheduled for launch early 2023 it will be the first Beyond Gravity receiver in geostationary orbit.
Beyond Gravity (formerly RUAG Space) delivered a geostationary navigation receiver, called GEORIX, and an antenna to Maxar in 2021. The receiver precisely determines a satellite's position in orbit. Maxar installed GEORIX on Intelsat-40e, a geostationary communications satellite. Intelsat-40e is hosting NASA's climate payload called Tropospheric Emissions Monitoring of Pollution (TEMPO). GEORIX will help TEMPO determine where it is in orbit as it measures atmospheric gases - including ozone, nitrogen dioxide and formaldehyde, and aerosols - over North America. Data collected by TEMPO will help improve air quality forecasting.
More precise climate data
"This will be the first time that a Beyond Gravity navigation receiver will fly in geostationary orbit, around 36'000 kilometers away from Earth," says Anders Linder, EVP Division Satellites at Beyond Gravity. "The more precisely the position that NASA's TEMPO can be determined by GEORIX, the more precise the climate data TEMPO can provide." Currently, around 30 navigation receivers from Beyond Gravity determine the position of satellites in low-Earth orbit (about 2'000 kilometers from Earth).
Intelsat-40e and TEMPO will launch in early 2023 from Cape Canaveral Space Force Station, Florida, aboard a SpaceX Falcon 9 rocket.
About TEMPO
TEMPO is a UV-visible spectrometer that will detect pollutants by measuring sunlight reflected and scattered from the Earth's surface and atmosphere. The resulting data from TEMPO will be used to enhance air-quality forecasts in North America, enabling the more effective early public warning of pollution incidents. TEMPO is a collaborative effort between NASA and the Smithsonian Astrophysical Observatory. TEMPO will deliver near-real-time air quality products to improve air quality forecasting. Rather than build a dedicated spacecraft to host the Ball Aerospace-built payload, NASA in 2019 partnered with Maxar to host it on Intelsat 40e (IS-40e).
More about the TEMPO mission: http://tempo.si.edu/overview.html
More about the integration of TEMPO spacecraft with Intelsat spacecraft: https://blog.maxar.com/space-infrastructure/2021/maxar-integrates-nasa-pollution-monitoring-payload-with-intelsat-40e-spacecraft
More about electronics from Beyond Gravity: https://www.beyondgravity.com/en/satellites/platform-electronics
Images
Image 1: Intelsat-40e is hosting NASA's climate payload called Tropospheric Emissions Monitoring of Pollution (TEMPO). The NASA instrument measures atmospheric gases. Credits: Maxar. Download: https://www.nasa.gov/sites/default/files/thumbnails/image/intelsat_40e.jpg
Image 2: NASA's TEMPO instrument on Intelsat IS40e at Maxar Technologies' satellite manufacturing facility in Palo Alto, California. Credits: Maxar. Download:
https://www.nasa.gov/feature/langley/nasa-air-pollution-instrument-completes-satellite-integration
Image 3: "This will be the first time that a Beyond Gravity navigation receiver will fly in geostationary orbit, around 36'000 kilometers away from Earth," says Anders Linder, EVP Division Satellites at Beyond Gravity. Credits: Beyond Gravity. Download 
Videos
Video about Beyond Gravity
Media contact:
Philipp Bircher, Vice President Corporate Communication,
+41 79 790 11 81, philipp.bircher@beyondgravity.com
Christian Thalmayr, Senior Manager Global Communication,
+43 1 80199, christian.thalmayr@beyondgravity.com
Beyond Gravity, headquartered in Zurich, Switzerland, is the first startup to combine agility, speed and innovation with decades of experience and proven quality. Approximately 1600 employees at 12 locations in six countries (Switzerland, Sweden, Austria, Germany, USA and Finland) develop and manufacture products for satellites and launch vehicles with the goal of advancing humanity and enabling exploration of the world and beyond. Beyond Gravity is the preferred supplier of structures for all types of launch vehicles and a leader in selected satellite products and constellations in the New Space sector. In 2021, the company generated revenues of approximately CHF 319 million. More information at: www.beyondgravity.com