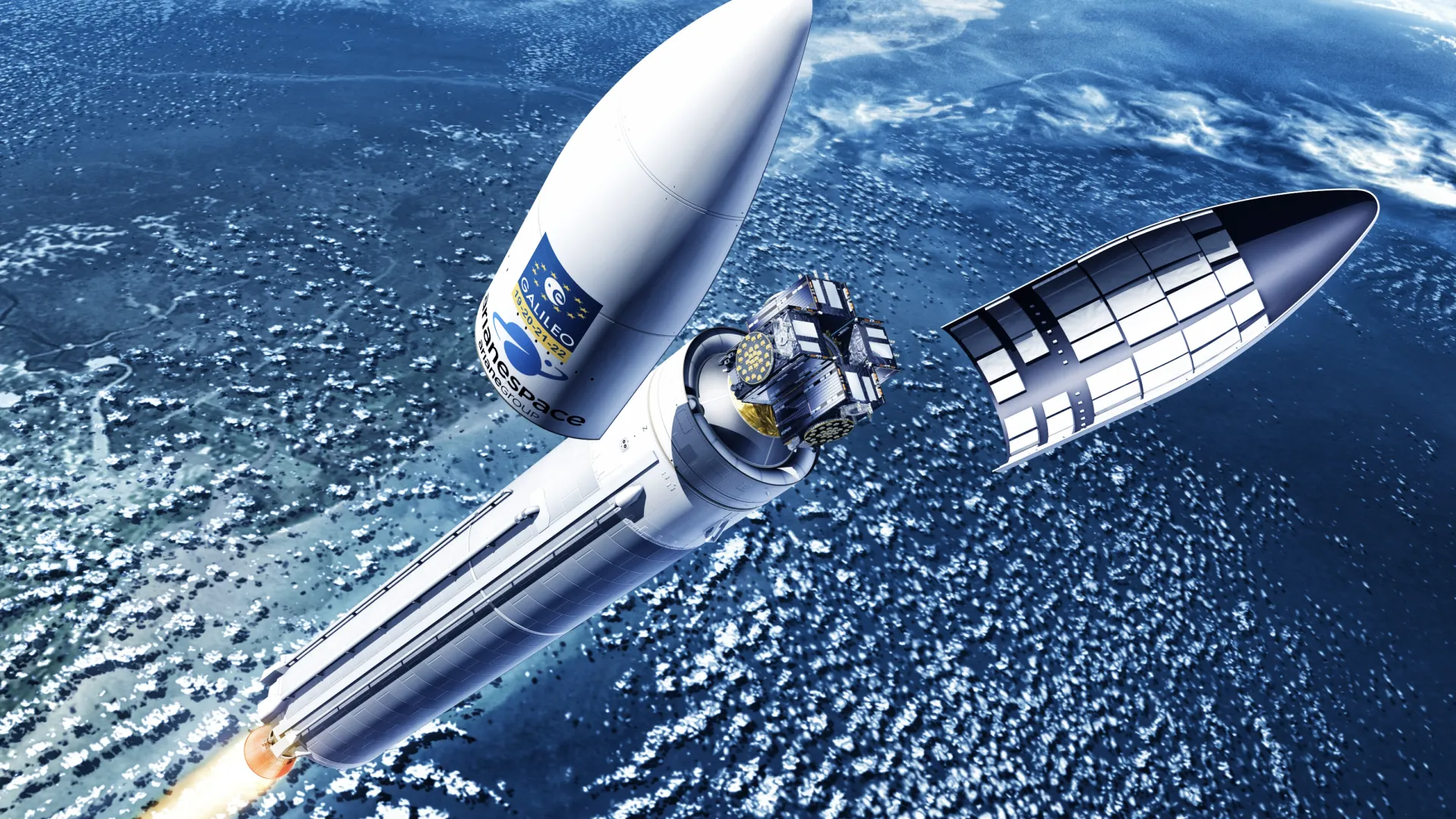 Every Ariane Rocket since its maiden flight and many US and Asian launcher rockets for commercial and institutional customers rely on our long-standing experience and best-in-class technology.
We push the boundaries.
How do you find the balance between product reliability and mission safety at the speed of the new space world? Beyond Gravity achieves this by constantly adapting its product lines to market needs and increasing process efficiency, e.g., through our time- and cost-saving out-of-autoclave production process for launcher structures, thus helping to make space transportation more affordable.
We contribute to the success of our customers' launches – with market-leading know-how in the development and production of best-in-class composite structures. As a reliable partner, we push the boundaries of what is technically feasible. With our strong global presence, which includes state-of-the-art, industrialized production facilities in the United States, Switzerland and Sweden, we are close to our customers.
For decades, our payload fairings, interstage adapters, dispensers, payload adapters and separation systems have been the first choice for primes and launch service providers such as United Launch Alliance (ULA), Arianespace, Avio, Mitsubishi, Space X or Dynetics.
Technology second-to-none and strong global production footprint.
We have been a proud supplier of payload fairings for every Ariane rocket since its first launch in 1979. In the United States, we have equipped all Atlas rockets with composite structures.Our product portfolio will deliver innovations for the next generations of large and small launch vehicles, such as the new Vulcan launcher, the universal stage adapter for NASA's Space Launch System (SLS), the new European Ariane 6 launch vehicle or Japan's H3. Our guidance systems are also the solution of choice for NASA and ESA missions in the field of sounding rockets.
To the moon – and beyond
With the Artemis missions still to come, ever larger loads will be transported into space and to the Moon, and with ever larger launch vehicles. For the largest American launch vehicle of all time – the SLS 1B – Beyond Gravity is building an important element together with its partner Dynamics: the Universal Stage Adapter. This connects the Orion spacecraft, in which the astronauts will be staying, with the upper stage of the SLS Block 1B rocket and at the same time protects the precious cargo. The adapter has a height of some 10 metres and measures just under 8.5 metres in diameter at its widest point.
Fast internet thanks to Amazon
Beyond Gravity is a world leader in the manufacture of satellite dispensers. The cylindrically shaped carbon fibre structures make it possible to attach numerous small satellites to them and then deploy them in space with pinpoint accuracy. The dispensers have been used successfully for many years, for example for the OneWeb satellite network. Beyond Gravity will also manufacture numerous dispensers for Amazon′s new Kuiper satellite project, which will safely accompany the satellites into space and ensure fast, reliable Internet.
"We have successfully deployed more than 1000 satellites into orbit."
Japan′s new emblem
The H3 launch vehicle is Japan′s new emblem for transport into space. Back in 2019, Beyond Gravity and Mitsubishi Heavy Industries signed a contract for payload fairings. Soon, the new rocket will be equipped with the rocket nose cones manufactured by Beyond Gravity in Emmen (CH), which will protect the precious cargo on its way into space. In terms of size and payload, the H3 is comparable to the Ariane 6.