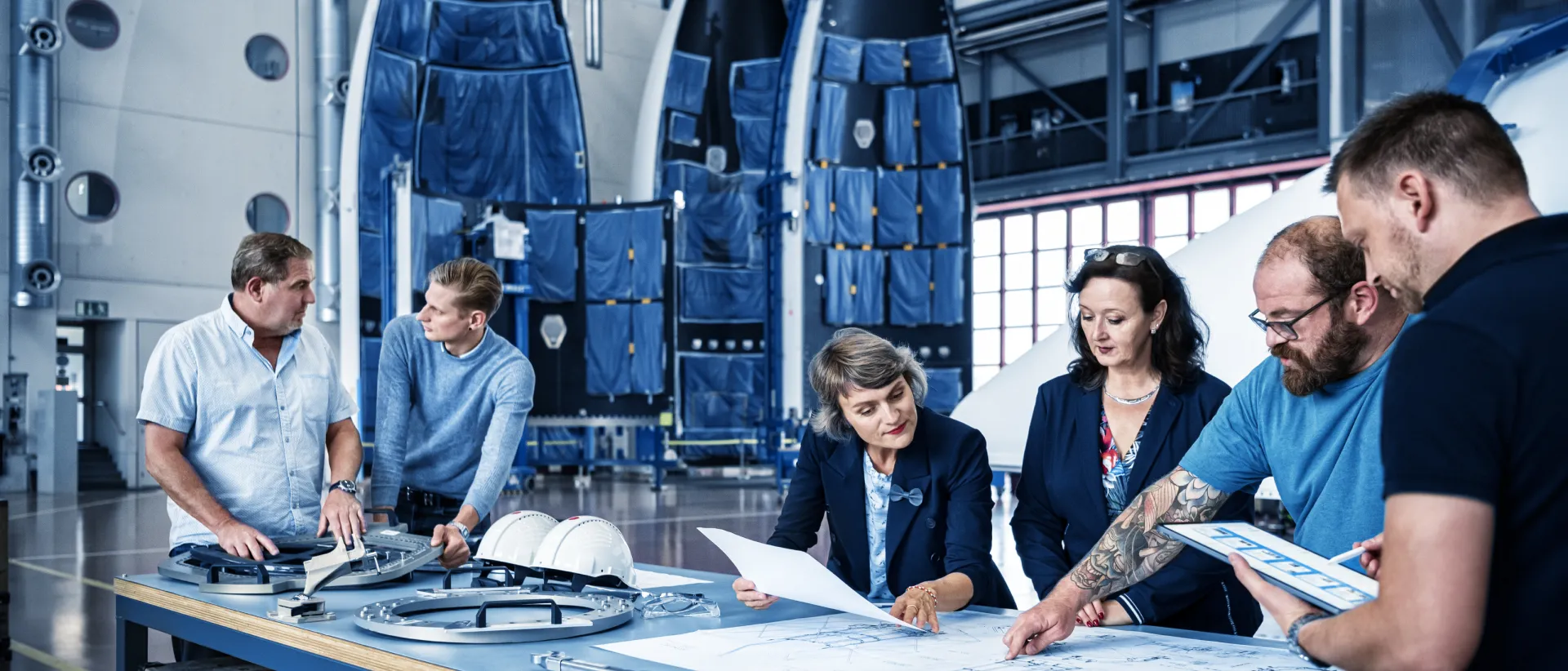 The world's leading supplier of composite structures for rockets, successfully used in over 400 launches to date.
Payload fairings.
Before and during launch, as well as during the journey through the atmosphere, a rocket's valuable cargo is protected by a payload fairing. Beyond Gravity is the world's leading supplier of composite technology for payload fairings, including for the European Ariane and Vega launch vehicles, the American Atlas and Vulcan rockets, or the Japanese H3. Our payload fairings have been successfully used in over 400 rocket launches to date. They are built using composite technology based on aluminum honeycomb cores with carbon fiber reinforced composite cover layers. This design allows the combination of low mass with high stiffness.
Our automated industrial process does not require an autoclave and allows for significant time and cost savings. To date, all our payload fairings in various sizes and configurations, ranging from 0.7m diameter for small launch vehicles to 5.4m, have an unmatched 100% success rate. We also provide our customers with the support they need at the launch site. Data on the dynamic behavior of the payload fairings during separation are routinely measured, transmitted to the ground control station and analyzed by our specialists.
Realizing what's next in Emmen
Experience the production halls in Emmen in a 360-degree panoramic film and learn how our payload fairings are produced.
Interstage adapters.
Interstage adapters are composite structures that connect the main stage of a rocket with its upper stages. Our ISA 400 Interstage Adapter forms the link between the booster stage and the upper stage of the Atlas V-400 rocket. It is a nearly cylindrical structure with a diameter between 3.80 meters at the bottom and 3.00 meters at the top and a height of 4.20 meters, which surrounds the engine of the Centaur upper stage during the first flight phase.
The structure of the interstage adapter comprises an aluminum honeycomb core with carbon fiber face sheets, a design that allows the weight of the entire Interstage Adapter to be kept to around 730 kg while still enabling it to withstand the enormous loads encountered during launch. An insulation of cork is used to protect the interior of the adapter from the high temperatures produced by atmospheric friction during flight.
Heat shields.
Our heat shields for ULA's Vulcan program are made using a similar sandwich construction to the payload fairings – composite technology based on aluminum honeycomb cores with carbon fiber reinforced plastic face sheets.
Launcher computers.
Launcher OBCs prepare data for transmission to Earth and execute commands issued to the launch vehicle from the ground. Our high-quality products survive in very harsh environments and also provide a cost-effective solution for higher volume applications. With over 300 flight units delivered, Beyond Gravity has a long-standing heritage in high-performance, fault-tolerant on-board computers (OBCs) that reliably monitor and control various subsystems aboard launch rockets, e.g. for the Ariane or Vega vehicles.