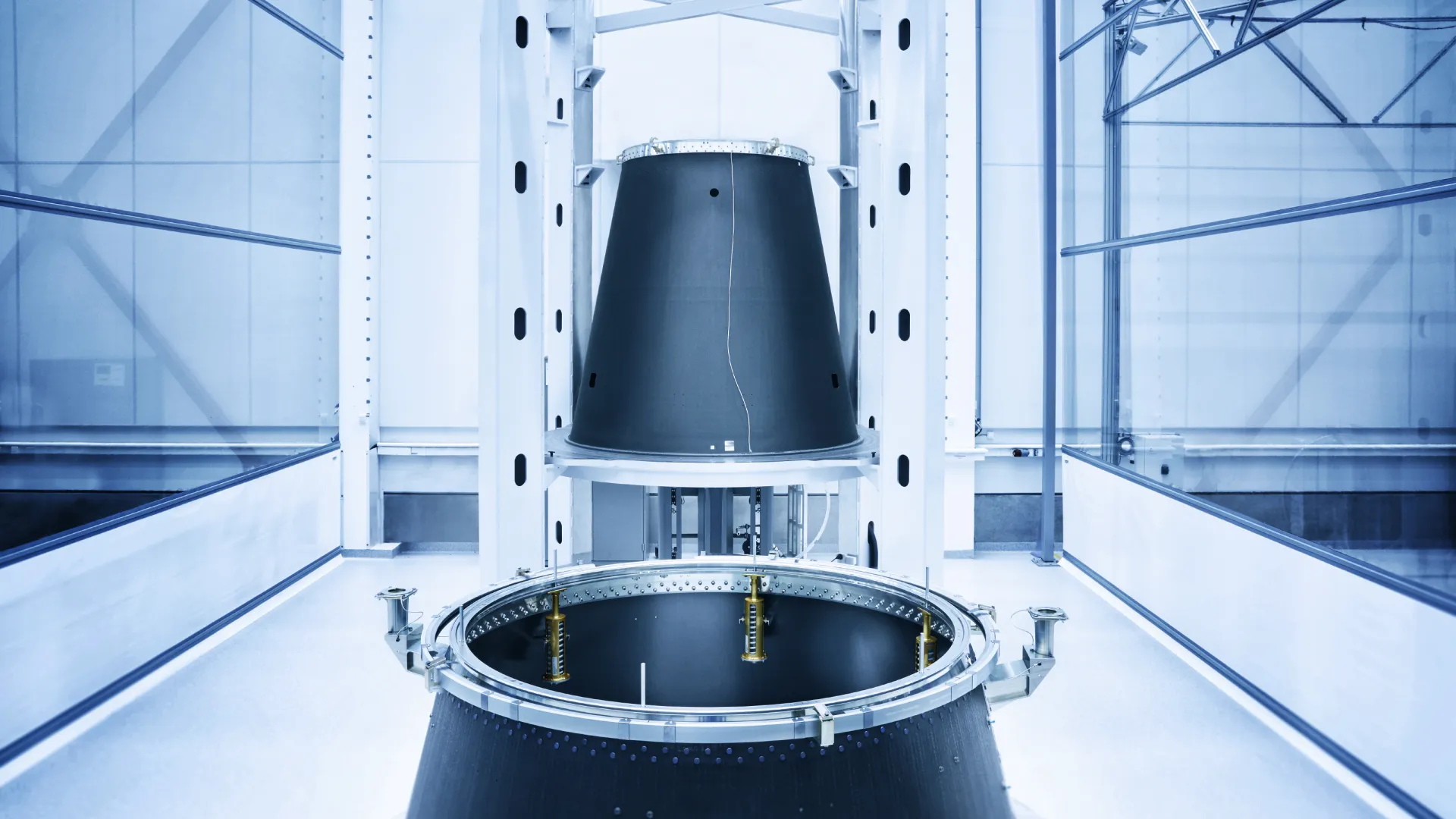 Ensuring that the satellite and rocket remain securely connected during launch and that the payload is placed in orbit with precision.
Beyond Gravity's separation systems securely hold satellites to their launch vehicles during the difficult journey to orbit and then precisely deliver the valuable payload to orbit at the specified relative velocity, potential spin or transverse spin. Our separation systems have an excellent flight record: To date more than 1200 in-orbit separations have been performed with a 100% success rate.
We offer standard and specialized systems for particular applications such as in-orbit separation of return-to-earth capsules, also including both clamp-band and hard-point separation systems. Our low-shock clamp-tape separation system is the industry standard for any payload. Our long-standing track-record gives launch vehicle operators and satellite builders as well as operators confidence in planning future missions with us.
Satellite dispenser systems
Dispenser systems are used for multiple satellite launches. This is especially suitable for spacecraft constellations where a number of spacecrafts need to be placed in orbit in a short time frame. We are a leading supplier with track record on programs such as Galileo, TerraBella, Radarsat Constellation and OneWeb. A dispenser system inlcude the structure subsystem, the separation system, the electrical herness as well as the thermal subsystem. At its lower interface the dispenser structure is bolted to the launch vehicle's upper stage. Each spacecraft is attached to the dispenser in separation nodes.
Beyond Gravity dispensers provide a stiff connection in each node during launch, a safe release and an accurate separation provided by the separation nuts and spring units. The electrical harness consists of redundant umbilical cables to each spacecraft, a harness to the pyrotechnical initiators as well as an instrumentation harness. If required, we can equip our dispensers with our own power and sequencing electronics.
"Our separation systems ensure that satellite and launcher remain securely attached to one another during the tough journey into space."
Modular payload adapter systems
Beyond Gravity is the world's leading provider of payload adapter systems, the physical structure used to connect a payload to the launch vehicle. Our modular adapters allow compatibility with almost any satellite on the market for any launch vehicle. We are a supplier for Ariane, Atlas, Delta, Land Launch, Proton, Sea Launch, Soyuz and Antares launch vehicles and offer a wide range of payload adapter systems that are compatible with most of the satellite buses in use around the world today.
Our services include supporting our customers through all phases of the program, up to and including successful on-orbit separation of the satellite. Payload adapters are tailored to customer needs and manufactured from aluminum or carbon fiber composites to deliver impressive performance.