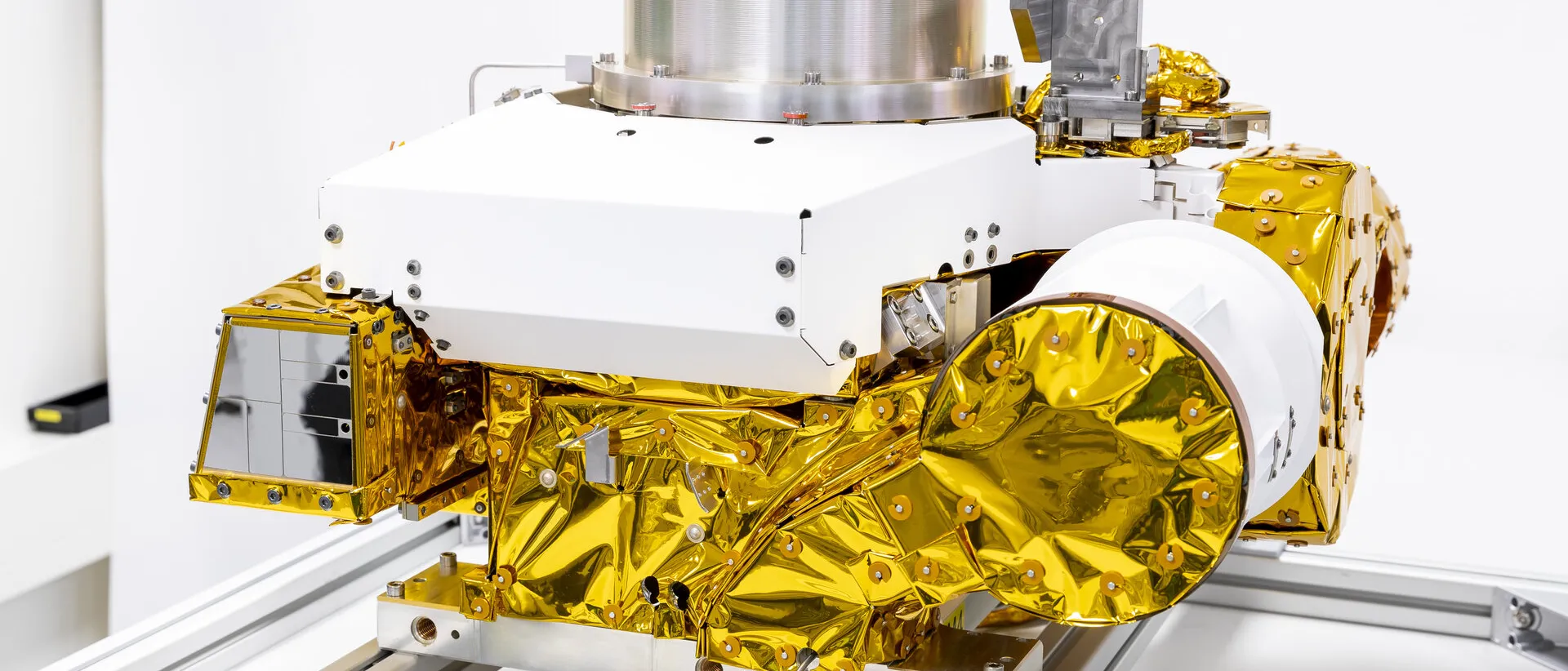 High-Tech-Mechanisms for new generation of all-electric satellites
On 16 January Eutelsat KONNECT satellite was launched into space. Beyond Gravity produced mechanisms that point the satellite's electrical propulsion – a key element of this new type of all-electric satellite

Electric propulsion pointing mechanism produced by Beyond Gravity
Eutelsat KONNECT satellite has been launched on 16 January on board an European Ariane 5 rocket. The satellite will provide broadband internet services to Africa. For this new generation of European telecommunications satellites, Beyond Gravity produced mechanisms that point the satellite's electrical engines. The electric propulsion is necessary to bring the satellite exactly into its position and to maintain this position over the lifetime of several years. 
The all-electric Eutelsat KONNECT spacecraft is the first satellite built on the new Spacebus Neo platform from Thales Alenia Space. Electric engines consume significantly less fuel than chemical engines, for example. The Electric Propulsion Pointing Mechanisms (EPPM) were delivered from Beyond Gravity to Thales Alenia Space, the satellite builder. The mechanisms will be mounted on Eutelsat KONNECT satellite. In total Beyond Gravity developed and produced 12 mechanisms at its site in Vienna, Austria.
Exact pointing for 15 years
The EPPM is able to accommodate and point 5 kW plasma thrusters with its associated electrical harness and propellant feed lines. It was carefully designed to minimise mass, isolate the thruster mechanical launch loads, manage orbital temperature extremes and deliver exact pointing accuracy over a 15 years' service lifetime. For the Eutelsat satellite Beyond Gravity also delivered the central tube, the "backbone" of the satellite, and slip rings.
The Neosat programme
The new Spacebus Neo product line is developed in the frame of ESA's Advanced Research in Telecommunications Systems (ARTES) programme, in cooperation with space agencies from ESA Member States, and managed jointly by ESA and the French space agency CNES. The Neosat programme comprises both Spacebus Neo by Thales Alenia Space and Eurostar Neo by Airbus Defence and Space. It includes development up to in-orbit validation of the new satellite product lines for both companies, allowing European industry to deliver competitive satellites for the commercial satellite market.
The payload fairing and the onboard computer for the Ariane 5 rocket was produced by Beyond Gravity.