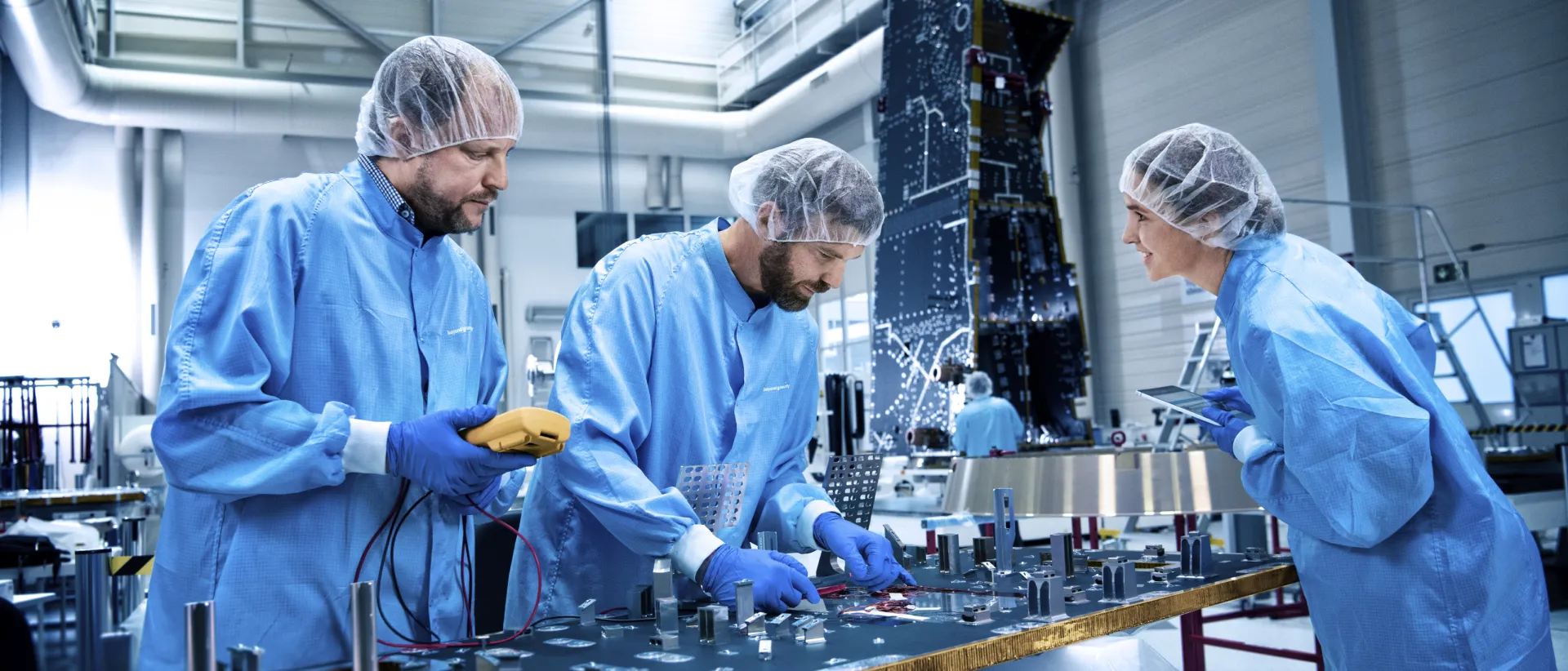 All the mechanical products and subsystems required to build, position, control, protect and power satellite platforms.
Satellite structures.
As a global leader, Beyond Gravity designs, engineers, manufactures, assembles and tests high-precision and dimensionally stable satellite structures. They can be used as satellite backbones or as instrument platforms for mounting optical or other instruments. Beyond Gravity is capable of delivering both a sophisticated satellite structure and components for a specific mission, as well as panels and structures for a constellation.
Our industrialized and semi-automated production processes enable production rates of several structures per day. Thanks to our standard component portfolio and many years of experience, our customers can choose from various design options. As a result, our customers benefit from short development cycles and a low risk level. Our solutions offer a high degree of flexibility and our designs can be adapted to subsequent changes if required, as we combine design, manufacturing and testing under one roof.
Thermal products
Multilayer insulation, or MLI, is thermal insulation consisting of multiple layers of thin sheets. It is used for satellites in space as well as for launch vehicles and in other fields such as medicine, e.g., MRI (magnetic resonance imaging) scanners. In space, the multi-layer insulation protects the satellite and rocket from extreme cold and heat up to 1800K.
With over three decades of experience in the development and production of thermal products for more than 500 satellites, we have developed competencies and capabilities for very demanding requirements that enable us to provide detailed thermal analysis. Our portfolio also includes other thermal hardware such as OSR (Optical Solar Reflectors) and EEE Components.
By continuously investing in the development of our innovative thermal technology, we help to increase our customers' competitiveness and extend the lifetime of their products. Today, our company also offers the development and production of cryogenic superinsulation for various applications such as helium liquids or superconducting magnets.
"More than 500 satellites are currently in space, which our thermal dress protects from the heat and cold of the universe."
Mechanisms
Precision mechanisms have been our specialty since our beginnings. Today, Beyond Gravity is one of the world's leading suppliers of space mechanisms and a leading supplier of Solar Array Drive Assemblies (SADA). Our in-house capabilities allow us to offer our customers turnkey solutions consisting of a mechanism and associated drive and control electronics, significantly reducing the effort required by prime contractors.
Beyond Gravity is particularly specialized in the areas of alignment, deployment, high power separation, payload mechanisms and robotics. We are the only European supplier offering a full range of SADM (Solar Array Drive Mechanism) worldwide from the microsatellite class to the largest telecommunication and Earth observation satellites, thruster orientation mechanisms for electric drives and actuators.
Solar power generator subsystem.
We integrate state-of-the-art components made by Beyond Gravity. They include substrate plates, deployment and synchronization mechanisms, hinges, as well as the photovoltaic system with partners to satellite's solar power generation. Thus, we provide a fully integrated, flight proven subsystems from a single source. By simplifying the supply chain, managing the development risks and providing high reliability, Beyond Gravity strives to make life easier for its customers.
Antenna pointing mechanisms.
With a pointing speed of over 20°/s, a pointing accuracy better than 0.00625°, and low power consumption, our advanced antenna pointing mechanisms guarantee the accurate, stable and energy-efficient pointing of a satellite's reflector and elevation axis. They also provide for the relaying of electronic signals between the antenna and the satellite.
Our antenna rotary actuators are designed to drive any type of space-based mechanism while transmitting a highly accurate position signal to the on-board electronics. They offer the best performance on the market due to their high output torque, high resolution, low mass, high unpowered detent torque and external load capability.
Power and drive electronics.
All electronic products require a power supply system, either embedded, modular or stand- alone. This is also the case with space electronics. Beyond Gravity has been designing and manufacturing power and drive electronics products for more than 30 years and is today a major European supplier of electrical subsystems and power distribution units for science and Earth observation satellites, proven in missions such as SolarOrbiter, Mars Express, Rosetta or ADM-Aeolus. Our portfolio of power and drive electronics ranges from motor drive electronics to simple supply modules to complex power distribution units. Our systems are capable of performing all functions, i.e., controlling, converting and distributing the required electrical power from the battery or solar array to meet the power needs of the satellite's electrical functions.
Slip rings.
Slip rings are needed wherever signals or power need to be transferred from rotating to stationary parts. Beyond Gravity's slip rings are at the heart of many mechanisms on board satellites and are also in demand for challenging applications outside of space and exploration. We are a world leader in space applications, supplying customers such as Airbus, Thales and Maxar. Beyond Gravity is also a recognized manufacturer of high quality slip rings for defense and industrial applications, offering custom designs that perform in the most challenging conditions.
Mechanical ground support equipment
As a recognized supplier of Mechanical Ground Support Equipment (MGSE) with more than 30 years of successful deliveries to NASA and the commercial space market worldwide, Beyond Gravity ensures that our customers' valuable payload arrives safely at its destination and can be handled safely on the ground. Our solutions include spacecraft containers, multi-purpose carts, lifting devices or clamp straps for ground handling and testing of spacecraft.