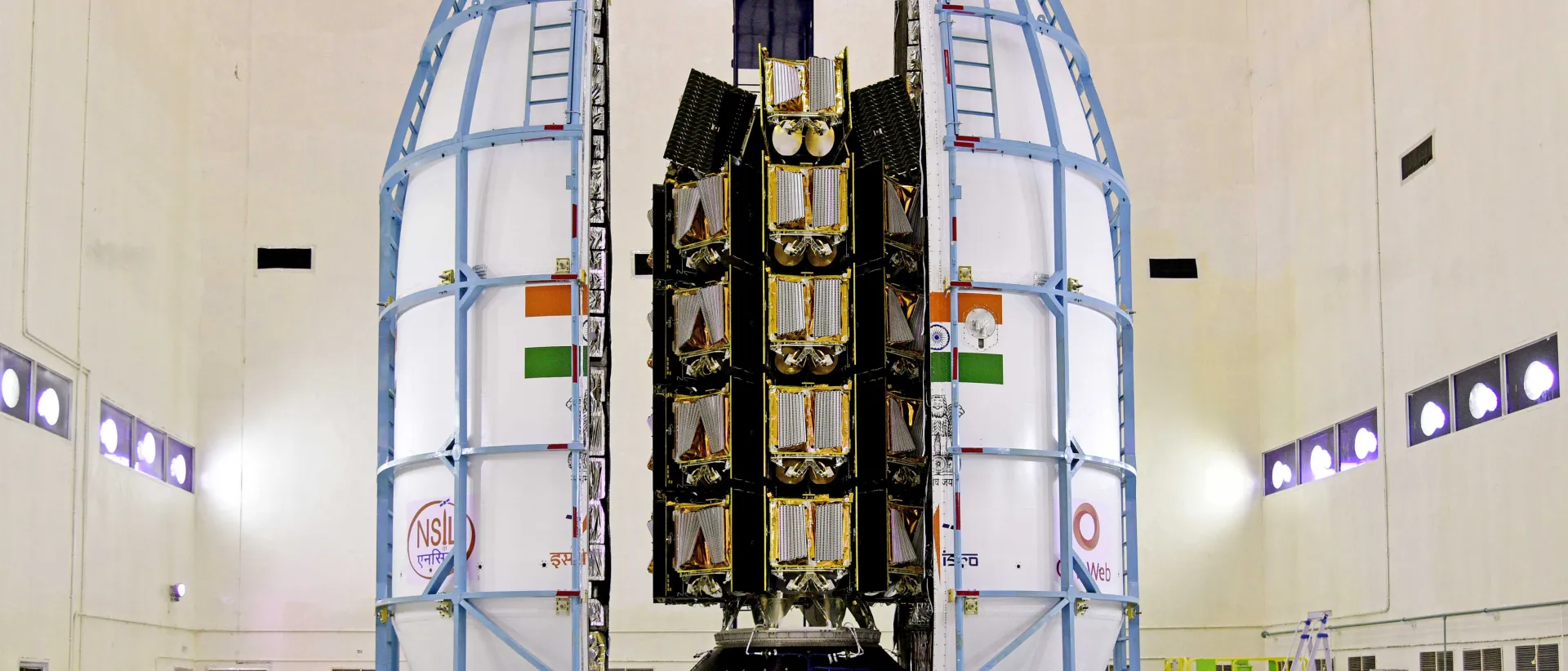 24.10.2022
Key products for OneWeb's first launch from India delivered
36 additional OneWeb internet satellites were launched from the Indian spaceport Satish Dhawan on October 23 (local time). A dispenser from Beyond Gravity (formerly RUAG Space) placed the 36 satellites in orbit, bringing the satellite fleet to 462.
OneWeb launched 36 additional broadband internet satellites aboard a GSLV Mark 3 launch vehicle from the Satish Dhawan Space Centre in India. OneWeb is building a communications network with a constellation of low-Earth-orbit satellites that will deliver internet access around the world. This launch brought OneWeb's total in-orbit constellation to 462 satellites, which represents more than 70% of its planned 648 low Earth orbit satellite fleet that will deliver high-speed, low-latency connectivity worldwide. OneWeb will connect towns, villages, and local and regional municipalities in the hardest-to-reach areas, thus playing a critical role in bridging the digital divide.
More than 400 OneWeb satellites deposited
As a key supplier to OneWeb's manufacturing factory, Airbus OneWeb Satellites, Beyond Gravity built the satellite dispenser, which placed all OneWeb satellites into orbit. The dispenser functions as an interface between the Indian rocket and 36 OneWeb satellites. "Our dispenser is super-light and includes state-of-the-art technology to safely place the satellites in orbit," says Paul Horstink, Executive Vice President Division Launchers at Beyond Gravity. "Thanks to Beyond Gravity's flexible dispenser design only a minor adaptation has been required to make this compatible to fly on the Indian rocket." OneWeb uses the Indian rocket for the first time, previously, OneWeb used Arianespace and Sojuz rockets.
Airbus OneWeb Satellites—a joint venture between OneWeb and Airbus—is OneWeb's industrial partner and leads the design and manufacturing of OneWeb's fleet of satellites. The Beyond Gravity dispensers for OneWeb are built in Linköping, Sweden. Each dispenser has a 1.7 metre central cylinder structure and a height of 5.5 metres.
Satellite back-bone from Beyond Gravity
Beyond Gravity also manufactured the OneWeb satellite back-bone (structure) in Titusville, Florida. The structures are manufactured using the Automated Potting Process, a production method that uses a pick and place machine to rapidly position special inserts filled with adhesive into the satellite structure's sandwich panels.
Thermal insulation and transport containers
In Austria, Beyond Gravity produced the multi-layer thermal insulation which protects the OneWeb satellites against the cold and heat in space from approx. minus 150°C to plus 150°C (-238 degrees F to 302 degrees F). The insulation consists of several layers of metal-evaporated polyimide film. Beyond Gravity in Austria also built handle equipment and transport containers. "Our high-tech, custom satellite containers are used to transport the assembled OneWeb satellites from Florida to the launch sites," explains Anders Linder, Executive Vice President Division Satellites at Beyond Gravity. The containers are equipped with a specifically designed damping system and climate-control.
About Beyond Gravity
Beyond Gravity, headquartered in Zurich, Switzerland, combines agility, speed, and innovation with decades of experience and proven quality. Approximately 1700 employees at 12 locations in six countries (Switzerland, Sweden, Austria, Germany, USA and Finland) design and manufacture products for satellites and launch vehicles with the goal of advancing humanity and enabling exploration of the world and beyond. Beyond Gravity is the preferred supplier of structures for all types of launch vehicles and a leader in selected satellite products and constellations in the New Space sector. In 2021, the company generated revenues of approximately CHF 319 million. More information at: www.beyondgravity.com
 
Images
Image 1: The dispenser from Beyond Gravity deposited all OneWeb satellites. Copyright: ISRO, OneWeb.
Image 2: The OneWeb satellites are protected from heat and cold in orbit by thermal insulation from Beyond Gravity. Copyright: Airbus OneWeb Satellites.
Image 3: Beyond Gravity delivered the spacecraft containers and ground support equipment for the OneWeb constellation. Copyright: OneWeb.
Video: Learn how Beyond Gravity is pushing boundaries of what is technically feasible for the benefit of humankind.
Media contact:
Philipp Bircher, Vice President Corporate Communication
+41 79 790 11 81, philipp.bircher@beyondgravity.com
Christian Thalmayr, Senior Manager Global Communication
+43 1 80199, christian.thalmayr@beyondgravity.com