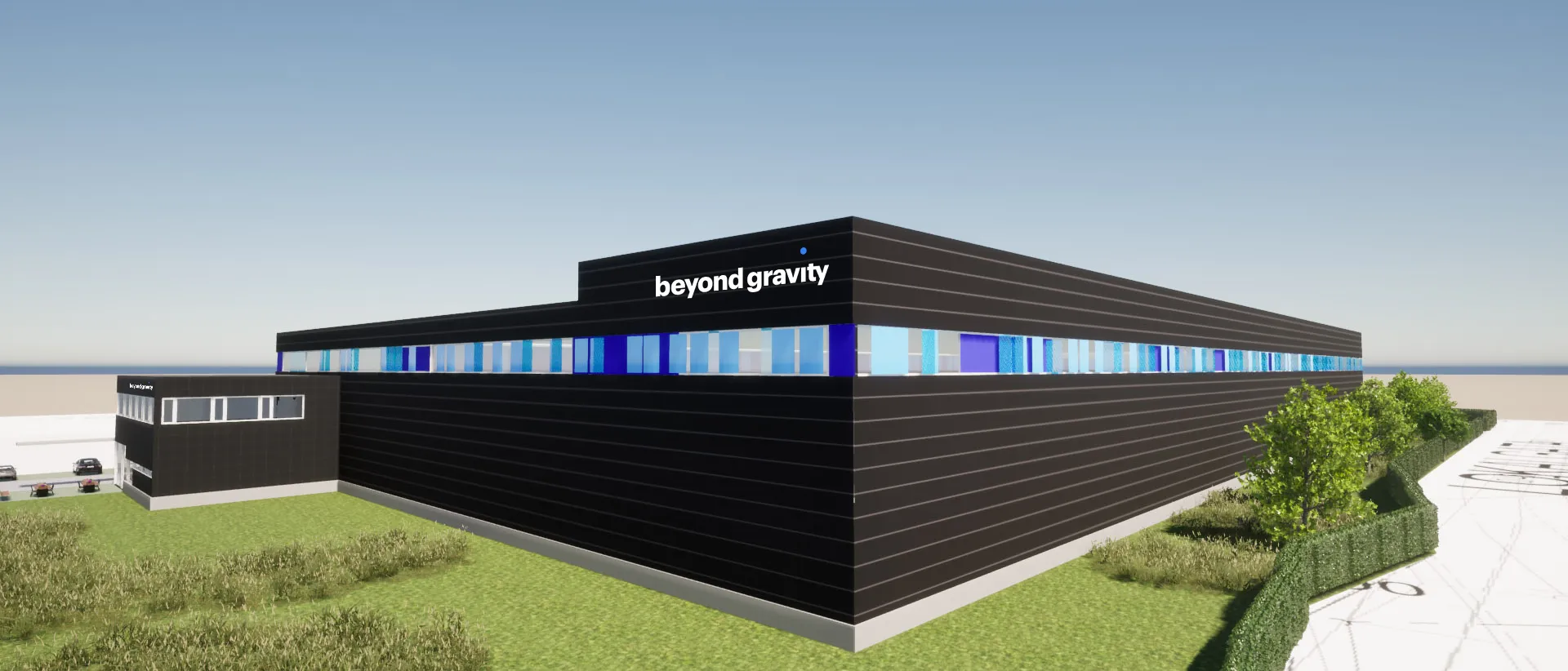 15.03.2022
Beyond Gravity boosts its capacity for satellite dispenser systems
Beyond Gravity (formerly RUAG Space) is significantly ramping up its production of satellite dispensers in Linköping, Sweden, with the construction of a new facility. It will be used to produce dispensers for satellite constellations. With the new building, Beyond Gravity is doubling its production capacity for satellite dispenser systems and creating 60 new jobs in Linköping.
Beyond Gravity is the world's leading manufacturer for dispensers used for satellite constellations where multiple satellites of the same design are launched into orbit in quick succession. Beyond Gravity has successfully placed more than 1,100 satellites into orbit – from the European Galileo satellite navigation constellation, the OneWeb internet constellation, the TerraBella Earth Observation satellite constellation to the Canadian Radarsat Earth Observation constellation. All Beyond Gravity dispensers and separation systems are manufactured in Linköping, Sweden.
Commitment to Linköping production site
Today, Tuesday, March 15, representatives from the Swedish Space Agency, the city of Linköping and Beyond Gravity broke ground on a new production facility at the so-called Cavok district, located just one kilometer from Beyond Gravity's existing manufacturing plant. Construction of the new facility is scheduled for completion in 2023. With this new building, Beyond Gravity will double its production capacity in Linköping. Instead of one dispenser system every month, the company will produce one every two weeks in the future. The capacity expansion will cover the increased dispenser production volume required to support the growth of large satellite constellations. This will also lead to the creation of new jobs in Linköping, as the number of employees in dispenser systems production will increase by 60, from about 140 at present to about 200 in 2023.
"Space industry is booming"
Also present was Anna Rathsman, Director General of the Swedish Space Agency. She said: "The space industry is booming, also in Sweden, and Beyond Gravity's expansion in Linköping is the best proof of what great technology is being produced here. With our funding, we've laid important foundations, and now we're seeing the money flow back into the economy and the job market many times over. We are delighted to see the creation of 60 new jobs." Niklas Borg, Chair of Linköping City Executive Board, adds, "Beyond Gravity is the first company to build a new production facility in our planned aerospace cluster in this business park. This will create high-quality industrial jobs in Linköping in the growing and increasingly important space sector."
"We are shortening our production lead times by 50 percent and are thus ideally equipped for industrialized large-scale production"
Series production in smart factory
The new plant in Linköping provides an additional state-of-the-art production area of 4,600 square meters, in addition to the existing production area of 3,000 square meters. The new hall is designed for series production. "We are shortening our production lead times by 50 percent and are thus ideally equipped for industrialized large-scale production," says Holger Wentscher, responsible for the Launchers business at Beyond Gravity. "With smart manufacturing tools and sensors, we will digitize our production line to enable process transparency with real-time data, data analytics and integrated quality control to ensure a high level of performance." To address sustainability, the hall will feature solar panels. "The investment is a clear commitment of us to the Linköping production site. We have excellent employees, great know-how and a perfect infrastructure for New Space."
More than 1,100 satellites placed into orbit
Beyond Gravity's separation systems have been used to perform more than 1,100 in-orbit separations, with a 100% success rate. They are super-lightweight and feature state-of-the-art technology. Built in Linköping for 40 years, they ensure that the satellite and rocket remain securely connected during the tough journey into space, and then precisely deliver the valuable payloads into orbit. At its lower interface the dispenser structure is bolted to the launch vehicle upper stage. Each spacecraft is attached to the dispenser in separation nodes. The Beyond Gravity dispenser system provides a stiff connection in each node during launch, a safe release and an accurate separation provided by the four separation nuts and spring units.
RUAG Space is now called Beyond Gravity
RUAG Space, a division of RUAG International, started operating in the market with its new brand Beyond Gravity on March 14, 2022. The company will change its legal name on May 1, 2022. The new name and brand identity are intended to sharpen the focus externally, position the Space division succinctly in the profoundly changing markets and make the comprehensive range of services even better known to customers. Beyond Gravity, which employs around 1,600 people, is thus positioning itself even more consistently as a global player in the international space market. More information can be found on the new website www.beyondgravity.com.