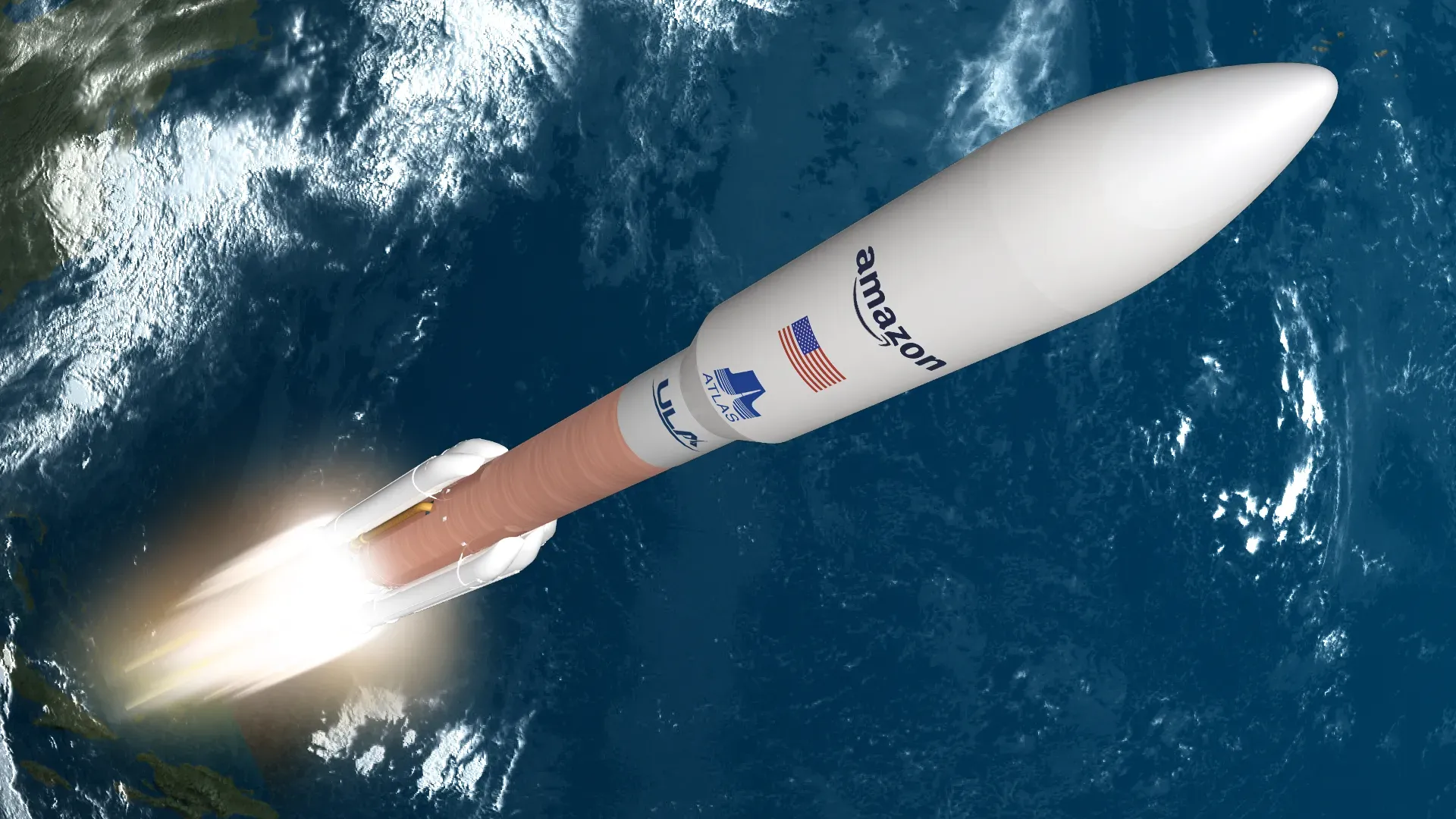 05.04.2022
Beyond Gravity and Amazon announce partnership
Amazon has awarded space technology provider Beyond Gravity (formerly RUAG Space) a major contract to design and manufacture the scalable dispenser systems for its Low Earth Orbit (LEO) satellite network, Project Kuiper. This single largest order in Beyond Gravity's history, which will support dozens of launches, underscores the company's strong position in New Space.
Fast, affordable broadband for people worldwide – this is the ambitious mission behind Project Kuiper, an Amazon initiative to increase global broadband access through a constellation of satellites in Low Earth Orbit (LEO). Amazon will soon begin deploying its initial constellation of 3,236 satellites and has selected space technology provider Beyond Gravity (known as RUAG Space until the rebranding on March 14, 2022) to develop and manufacture the custom, scalable dispenser systems that can accommodate multiple medium- and heavy-lift launch vehicles. Beyond Gravity is building a new facility in Linköping, Sweden, to support the development work, double its production capacity for dispensers and create 60 additional jobs on site.
"We are honored to be part of such a globally unique project."
Major contract to support dozens of launches
André Wall, CEO of RUAG International, to which Beyond Gravity belongs, says: "We are honored to be part of such a globally unique project. The contract confirms once again that we are technological leaders and that our 100% mission success track record in over 40 years qualifies us as a reliable partner also for large satellite constellations. Together with Amazon, we further contribute to the growth of the European space industry, as we will also source the material and components from a broad European supplier base." For Beyond Gravity, it is the single largest order in the company's history. It is another important step in strengthening the company's position in the fast-growing commercial space markets. André Wall adds, "With our new Beyond Gravity brand just launched, we are incredibly proud to announce this partnership with Amazon's Project Kuiper. I would like to sincerely thank them for their trust and am confident that we can contribute to the success of Project Kuiper's satellite constellation and the goal of increasing access to broadband worldwide with one of the best dispenser solutions the world has ever seen."
Complex mission requirements
"Project Kuiper aims to deliver fast, reliable broadband to communities around the world, and we've deliberately designed every aspect of our satellite system to deliver high-quality service at an affordable price," says Rajeev Badyal, Vice President of Technology for Project Kuiper at Amazon. "We need a flexible, low-cost dispenser system that works across multiple rockets, and Beyond Gravity has the experience required and the passion to invent alongside our team. We're proud to be working together and supporting the growth of the European space industry."
Scalable, ultra-lightweight dispenser design
Engineers from Beyond Gravity and Project Kuiper have worked together for nearly two years to develop a flexible, scalable dispenser system suitable for a variety of rockets and payload configurations. The Beyond Gravity dispenser system uses advanced, ultra-lightweight materials to reduce mass, thereby lowering development costs. This supports Amazon's goal of lowering production and deployment costs for its entire satellite system. In Linköping, Sweden, where the dispenser systems for Project Kuiper are produced, Beyond Gravity broke ground in mid-March on a new dispenser production facility in partnership with the Swedish Space Agency and the city of Linköping. The new facility, which will be completed by 2023, will double Beyond Gravity's dispenser production capacity for satellite dispensers and create 60 new jobs in Linköping. In addition, this contract will support a broad European supply base for Beyond Gravity (in addition to materials sourced in the U.S.), helping to create additional jobs in Europe.
World leader in satellite separation
With around 1,100 successfully separated satellites in orbit, Beyond Gravity is the leading provider of satellite separation systems for commercial launch vehicles. They ensure that the satellite and launch vehicle remain securely connected on their way into space and that the valuable payload is precisely delivered into orbit. Beyond Gravity's dispenser systems allow multiple satellites to be separated in a specific sequence to achieve exactly the right orbit. They have been used worldwide for missions such as Galileo, the TerraBella constellation of Earth observation satellites, the Canadian Radarsat constellation of Earth observation satellites, or the OneWeb Internet satellite constellation. Beyond Gravity's dispensers are particularly suited for large satellite constellations where a large number of spacecraft must be placed into orbit in a short period of time. More information about Beyond Gravity's dispenser systems can be found on our website.